Dubai Fitness Challenge
In what can be termed as a revolutionary step in the field of fitness, the gen-next city of Dubai has come forward with "The Dubai Fitness Challenge" for its masses. This unique, innovative and never seen before campaign strikingly blends the boring with the exciting, workout with fun-filled events.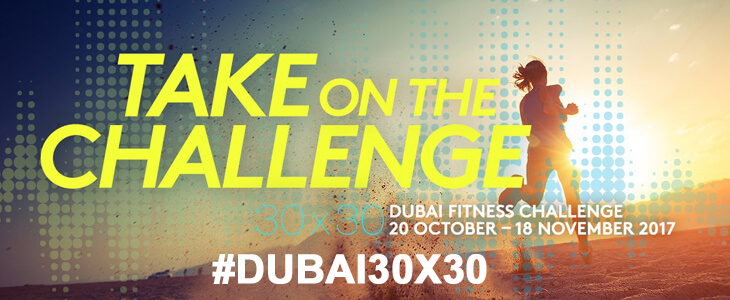 What is Dubai Fitness Challenge?
The Dubai Fitness Challenge, launched under the able guidance of His Highness Sheikh Hamdan Bin Mohammed Bin Rashid Al Maktoum, the Crown Prince of Dubai, presents a platform to create awareness and knowledge among its citizens about health, it's importance, widespread diseases, the role of fitness and exercise. It shall be run from Oct 20, 2017 to Nov 18, 2017.
Under the challenge, people have to register themselves and follow an instructed scheduled of 30 minutes of exercise for 30 days every day. There is no restriction on participation whatsoever. People from all age groups, gender, previously associated with workout or beginners, can become a part of the movement alike. One can enroll as an individual, corporate or even school with large number of students.
What is involved?
Over this span of 30 days, the city administration has committed itself to hosting nearly 1500 free fitness sessions partnering with 88 sports and fitness facilities across the city. The herculean effort doesn't end here. It will also host 16 partner sporting events, five weekends of family fun carnivals by collaborating with 75 pop up fitness locations for hassle-free and easy exercising. All these events begin with an Opening Carnival on 20th October at Safa Park.
Aimed at making fitness fun and raising the level of physical and mental competency, strength and ability among its participants, a wide spectrum of activities have been included in the challenge. These include Desert Race, Color Race, Swimming Championships, Time Trials, Triathlon, Cycling and many more. The entire concept has been designed in such a way that it'll, in addition to motivating people to step out of their comfort zones, also inspire them to stay healthy, utilize their weekends having fun and feeling energized with family and friends.
Track your progress with an app
However, what turns out to be the game changer here is the app that has been developed in line with the challenge. In order to keep people informed about their progress, their workout history, their performance rating and other facts and figures in place, a specialized-user-friendly application has been developed. This has enabled anytime anywhere access for the user and keeps his attention hooked to the purpose.
With the motive of fostering this awareness and consciousness in the psyche of the people for all times to come, it takes extra care of providing inspirational stories, personal anecdotes from achievers, fitness tips, keys to healthy lifestyle and many other such informational pieces from time to time to boost the confidence and vigour of the participants.
Dubai Crown Prince takes Dubai Fitness Challenge to new heights with a call to join the challenge from world's tallest building #Dubai30X30 pic.twitter.com/tZ8qG0s5q2

— Dubai Media Office (@DXBMediaOffice) October 18, 2017
With Dubai hosting first-of-its-kind fitness awareness campaign, it has certainly attracted all the world's attention, striving to become world's most active and healthy city. The sincerity with which it has focussed on this important aspect and has turned it into fun and leisure of people deserves unanimous applause. People in and around Dubai, who can join in, must definitely take this step towards a healthier tomorrow.
#تحدي_دبي_للياقة #شرطة_دبي #أمنكم_سعادتنا
. . .
#Dubai30X30 #YourSecurityOurHappiness #DubaiPolice
@DXBFitChallenge pic.twitter.com/D9OJl8Ir1U

— Dubai Policeشرطة دبي (@DubaiPoliceHQ) October 23, 2017
Related Articles