6 Theme Parks in Dubai
Dubai is definitely famous for skyscrapers, deserts, the Arabian Gulf, and so many sites to see. However, when you are touring with friends and family, you'd definitely want to visit one of the theme parks in the city. These are perfect stress busters that come with full of joy and entertainment. Check out the top options in the city and choose where you'd like to go.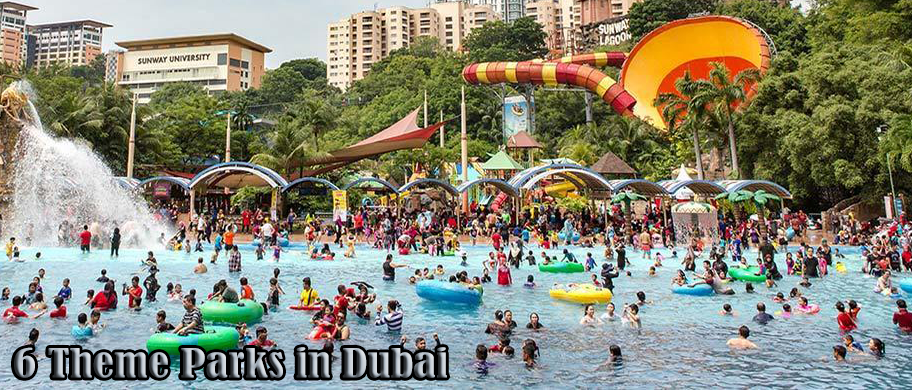 1. Motiongate Dubai
Motiongate is inspired by Hollywood and comes with the exact amount of glitz, glamour, adventure, and fun. The park has many zones that reflect some aspects of Hollywood cinematic culture. The main franchises you will want to be a part of are, Madagascar, Kung Fu Panda, Shrek, Smurfs, and Ghostbusters. There will be rollercoaster rides, interactive shows, theatrical performances, and more.
2. Aquaventure Waterpark
The water park of Aquaventure locates at the edge of Palm Islands in Atlantis. This is the biggest water park in the Middle East and Europe, and has won several awards like the Best Waterpark in the Middle East 2015. The most daunting part on coming here are the 90-foot slides that takes you into a lagoon full of sharks. There are also lazy river boat rides or big swimming pools to chill.
3. Bollywood Parks
Bollywood Parks in Dubai is inspired from the vibrant film industry of India. The park has over 16 rides and attractions that take you on a Bollywood tour. There are 20 live shows happening across five stages. You also get Indian dining along with a replica of the Mumbai Chowk and Bollywood Boulevard.
4. Ski Dubai
The Ski Dubai is a theme park for all snow lovers. The temperature of this place is maintained at -2° C and you might forget that you're in Dubai after stepping in. This place is located in the Mall of Emirates is covered with snow all through the year. It occupies a huge space of 22,500 square metre and lets you ski all through. There are different levels of slopes to challenge your skiing skills and is a perfect getaway with friends.
5. Legoland Dubai
Legoland is one of the most delightful theme parks for children. Parents too love to get indulged into the fun and games of this entertaining place. There are more than 40 rides, shows, and attractions that include the Lego characters and their storyline. There are six themed lands covering a huge area you can't cover within a day. The most attractive part is to locate the 60 million pieces of Lego bricks put together in a formation.
6. Bounce
Bounce is a trampoline park where you can test your gymnastic ability. It also has other activities and attractions to try out. You might love to see people doing freestyle on the Performance Trampoline, try out hoop skills, play dodgeball or simply enjoy jumping on a trampoline.
These were the top theme parks that you can be a part of on coming to Dubai. All of them have been made to suit people of all ages and to help you bound better with your friends and family.
Related Articles