6 Ways to Discover Dubai's Old Town
For most young locals and expats in Dubai, it is hard to digest that the fast paced city was once a sullen site of two major divisions – Deira and Bur Dubai. Despite being known for its tourism and high rise establishments, Dubai's real heritage can truly be understood only by exploring both the sides of Dubai Creek.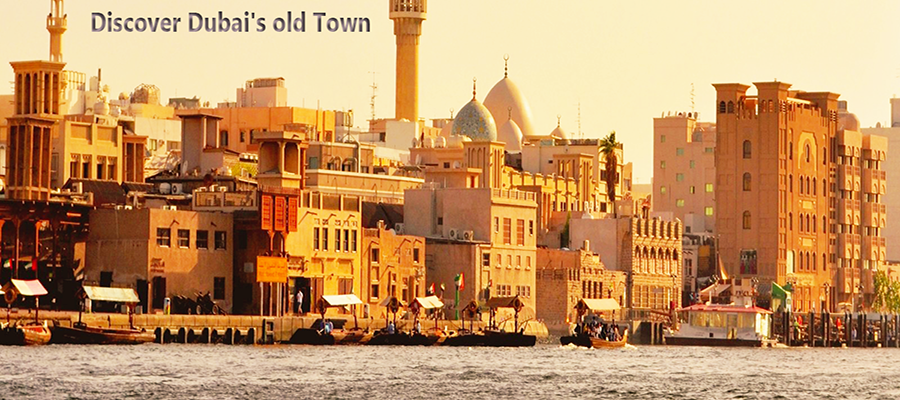 Dubai's old town is a passing glance into what once was the essence of Dubai. Situated in the north of the Emirate, it offers a deeper insight into Dubai's culture and diversity. Consider the following ways to discover Dubai's Old town like never before.
1. Explore Al Fahidi District
Built during 1787 Al Fahidi Fort is now home to the Dubai Museum. You can visit the museum for a lesson on Dubai's history. They have exhibits of Bedouin culture and past occupations on display. The entry fee is AED 3 for adults and AED 1 for children below six years of age.
Other than the museum, the neighbourhood surrounding the fort is now a heritage site and will send you back to the Old Arabia. You can stroll the streets for pictures of some of Dubai's oldest buildings.
2. Stroll the souks for vintage trinkets
Deira is popular for the Grand Souk. Also called the Spice Souk, the vibrant marketplace is famous for the sale of spices, herbs, textiles, fragrances, kitchenware, henna tattoos, and some UAE memorabilia. You can also visit the Gold Souk to view and purchase some jewelry.
3. Sail across the Dubai Creek
The saltwater creek alongside Deira Grand Souk is a crucial piece in the jigsaw that is Dubai's past. Originally, the creek served an occupational purpose for many fishing and pearl diving communities. It was also the harbour for traders from other countries prior to the oil discoveries.
Today, Dubai Creek is a tourism hotspot. You can pay AED 1 for an Abra ride across the creek to Bur Dubai from Deira and vice versa. The short ride will give you a peek into transportation by wooden boats, which was the major mode of travel in the past.
4. Take a walk on the streets of Bur Dubai
Walk in the bylanes of a division of Old Dubai. Bur Dubai is home to the still existing community of pearl divers and merchants. You will get a quick idea of how the culture of Arabia's past still holds up even today.
5. Dine at sidewalks of Karama and Satwa
Head to JBR, Al Karama or Satwa for some culinary hidden-gems. In a city, which serves record breaking gourmet food, street side food is no less extraordinary. Both the streets are known for offering sidewalk dining options of cuisines like Indian, Ethiopian, Indonesian, Iranian, and Pakistani.
6. Head to Sheikh Saeed Al Maktoum's House
To explore the former residence of the farsighted Emir, Sheikh Saeed Al Maktoum who reigned from 1912 to 1958, reach the Dubai Heritage Village first. Then take a u-turn and you will arrive at the house. Now, a museum with valuable paperwork and photographs on exhibit, the entry fee into the house is AED 3 for an insight of early 1900s Dubai.
Grab your walking shoes and go back in time to experience the ancient heritage of Dubai.
Related Articles