7 Ideas For Your Next Level Home Staycation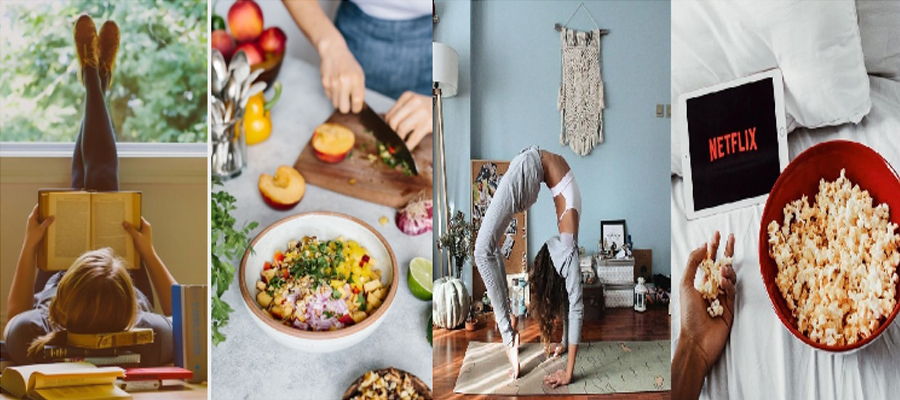 During the Coronavirus disease (COVID-19) lockdown most of the Cinemas, Amusement Parks, Gyms, Bars and Restaurants are closed now. And most of the companies let their employees work from home to contain the spread of the virus. So, we came up with some ideas to guide you on how to stay productive, fit and keep you entertained while staying at home and make the most out of it.
1. Exercise, Yoga and Zumba at home: While most of the Gyms are closed across the UAE staying fit and healthy is not a problem. You can try different activities like Yoga, Zumba and Exercise at home with your family. Isn't it exciting? So, grab your yoga mat and let the sweat begin. You can watch free tutorials on YouTube and can follow some fitness guru on Instagram to get some tips on being healthy.
2. Go back on reading: Every one of us are busy in adulating life. Work, meetings and deadlines make us occupied so we have very limited time to do some of our habits especially in reading. So, if you're currently have the privilege of working from home, why not take a pause and visit your book collections at home and go back into reading your favorite books that you haven't read in a while. We can suggest some all-time favorite books to stay motivated.
– The 7 Habits of highly effective people by Stephen R. Covey
– Who Moved My Cheese? By Dr. Spencer Johnson
– The Monk who sold his Ferrari by Robin Sharma
– The Art of War by Sunzi
– Rich Dad Poor Dad by Robert Kiyosaki, Sharon Lechter
– Think and Grow Rich by Napoleon Hill
– The Power of positive thinking By Norman Vincent
3. Become your family Chef: Eating right and healthy are very important these days. Don't panic if your favorite restaurants are temporarily closed forget about dining out and be your own family Chef. If you don't know how to start yet there are plenty of cooking tutorials on YouTube you can watch and from there you can start making delicious and healthy dishes for your family.
– ByronTalbott
– Peaceful Cuisine
– Manjula's Kitchen
– The VictorianWay
– Donal Skehan
– Binging with Babish
– You Suck At Cooking
4. Declutter and clean your Bedroom: Yes, you heard me right, it's the best time to sort out your things and clean all the mess! Start with your closet, your bed and arrange all your stuff and be minimalist. A peaceful space means a peaceful mind and sleep.
5. Netflix and Chill: After cleaning and decluttering it's time to Netflix and chill. Make a list of movies and series you wanted to watch in your entire staycation make sure you have a box of popcorn or whatever snacks you cooked after watching suggested cooking channels for a complete movie marathon experience. You can watch all-time great series like FRIENDS, BREAKING BAD, THE WALKING DEAD, GAME OF THRONES, NARCOS, and HOW I MET YOUR MOTHER AND MANY MORE…
6. Play Video Games: If you're not a movie or series kind of person you can always play video games. It is more exciting when you do it with someone as competitive as you. If you have never played these games before then i think it's the perfect time for you to get wasted lol.
– Call of Duty
– Clash of Clans
– PUBG
– Shadowgun Legends
– Gardenscapes
– 8Pool
7. Be a Tik Tok superstar: Joining Tik Tok bandwagon? Why not? It's the best way to kill time and discover your hidden talent.
Keep calm and make sure to try one of these activities but don't forget to always keep yourself and your family and love ones happy, healthy and safe.
Related Articles