Dubai Miracle Garden
A creation of engineer Abdel Nasser Rahhal, Dubai Miracle Garden situated in the south of Al Barsha is home to over 150 million flowers. An almost unthinkable feat in a Middle Eastern region is the world's largest natural flower garden.
Doesn't it sound like something Lewis Carroll was visualizing when he authored the literary classic Alice in Wonderland? The same setting would be apt if Willy Wonka's Chocolate Factory was set in the backdrop of a garden in countryside Britain. It can easily pass off as a location for a bubblegum pop music video.
In fact, the garden was featured in the 2015 Bollywood movie Hamari Adhuri Kahani as the director Mohit Suri wanted to focus on the non-luxury and non-skyscraper aspects of the Emirate. Read on to find out how you can channel your inner Alice and flirt with the ground breaking natural beauty:
Explore butterflies and bloom
Prepare to be amazed when you navigate the dome like garden, which is not only temperature controlled for the butterflies but also has an accompanying Butterfly Museum and many butterfly themed installations and sections.
Be charmed by the floral wonderland
There is a charming, fairytale like feel to the Fragrant Village which is palace like structure with 10 flower houses. The numerous flower species include sunflowers that follow every movement of the sun. You can take in the fragrance, touch and make your own cup of flower infuses tea, fresh at the counters that provide cups and seating arrangement for visitors.
Grab a bite at the Edible garden
The edible garden is home to a variety of fruits and vegetables like tomatoes, lettuce, strawberries and more. The visitors are allowed to pluck and eat the fresh produce of their choosing. And, you don't even have to worry about the gardener catching you red handed.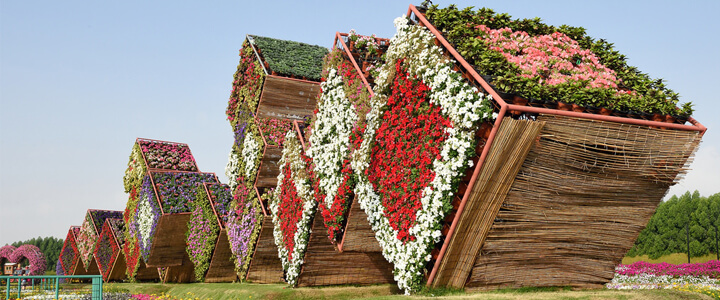 View the live size Emirates A380
A recent botanical installation of The Emirates A380 was built with recycled materials, flowers, and an irrigation system. It has fast become popular with visitors due to the garden's sustainable approach to horticultural art.
For your child's amusement
Your child will love the Garden's in-house play area for kids (4 to 14 years). They have one of the kind activities, and electronic games to keep the children involved while engaging in physical activity.
One of the gardens houses many colorful umbrella-shaped canopies sporting images of children's favorite fictional characters from Ben 10 to Spider-Man.
Other services and facilities
Among other amenities throughout the attraction are sitting areas, cafes, restaurants, souvenir shops, ice cream stalls, a small convenience store, a Mosque, trains, carts, children's tricycles and an enormous parking lot.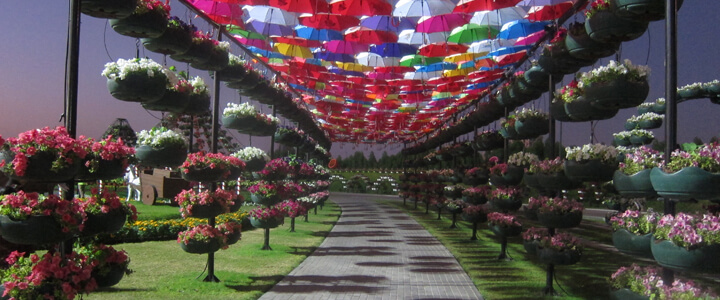 They also have scheduled magic and illusion performances for entertaining visitors while they experience the 'miracle' garden. The attraction draws in an ever expanding number of visitors every year since it's conception was realized.
Leave the tech, extravagance and other forms of outdoor entertainment aside for a day at the Dubai Miracle Garden.
Charges: Dhs 20 per person, free entry for kids below three years of age
Timings: 10 AM to 10 PM daily, 10 AM to midnight on weekends and public holidays
Related Articles