Emirates Lost position of top valued brand in Middle East
Brand finance has recently released a report of most valuable brands in the Middle East. According to the report, STC (Saudi Telecom Company) is now the most valued brand in the Middle East. STC snatched the position from Emirates Airline.

As per Brand Finance, Emirates Airline was number one valued brand in Middle Ease from 2010 – 2016. Emirates lost the position mainly due to the oil price.
Another important news is Emirates Airline is not only lost its rank in Middle East index but also on Global Level. Globally, Emirates rank number 4 in 2017 losing its top position after 5 years. Emirates has seen a dip of 21% in brand value among the global airline list. In 2017 American Airlines is topping the list a 2 point jump from 3 followed by Delta (no movement in ranking) & United Airlines (gained 2 points compared to the year 2016). The only European Airline in top 10 lists is British Airways (ranked number 9), which has also lost 5 points this year.
The main reason behind this effect is competition by international players. Since the oil price is running at very low that is allowing other major airlines to fight with the Middle Eastern Giant Emirates. "The discount rate applied to all Gulf airlines has increased in tandem with this less favorable environment, reducing long-term value. Finally, the strength of the dollar has increased operating costs and also had a negative FX impact on all non-US domiciled brands," said Brand Finance CEO David Haigh.
QNB & Emirates NBD are the two top banks in the Middle East to gain this year. QNB gained 1 rank and now at 4 compare to 5th position in 2016, and Emirates NBD has gained 4 points and ranking at 5th position compare to 9th in 2016
Though STC is top and four of the Middle East's top ten brands are telecoms companies, telecoms are only the second most valuable sector by brand value, accounting for 28% of the total. Banking makes up the biggest share of the total brand value of the Brand Finance Middle East's 50, comprising 43% of the US$75 billion total. Banking is also the source of the region's fastest growing brand, Dubai Islamic Bank, whose brand value is up 136% on 2016.
Below is the list of top 10 valued brands in the Middle East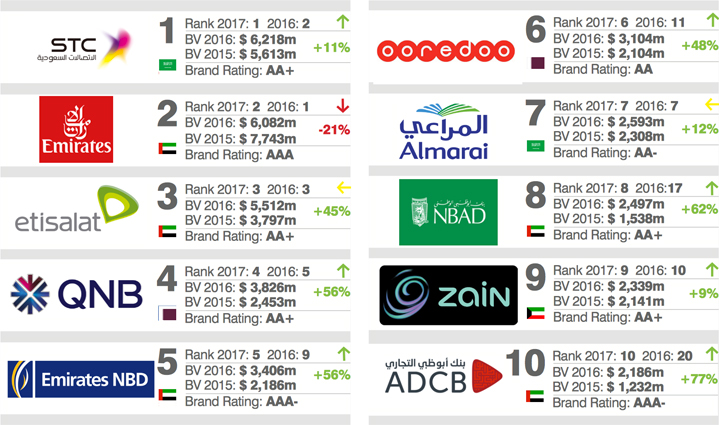 Related Articles