Louvre Abu Dhabi Museum
UAE's iconic Museum, Louvre, will exhibit the eras that have gone and the ones that might lie ahead of us. The architect behind this phenomenon is the renowned Jean Nouvel. But apart from the stunning architecture, you will also be treated to some of the most imaginative works of art that have ever been created in the world.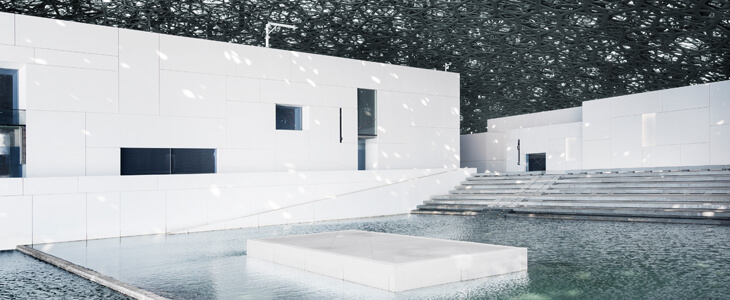 Image Credit: Louvre Abu Dhabiís plaza © Louvre Abu Dhabi, Photography: Mohamed Somji
Here are some of the best artworks you should look out for at
Louvre Abu Dhabi:
La Belle Ferronnière – Leonardo da Vinci, 1490
Just like more of Leonardo da Vinci's portraits that will make you ponder, this masterpiece reveals the importance of class during the Italian Renaissance. A lady is seated in a showy dress, colored in earthy tones, and added with jewels.
She seems to be stiff and has a straight face, and this adds to the sense of mystery that is left to be interpreted by the perceiver. The portrait will fly out of Europe for the first time to be a part of Louvre's collection.
Self-portrait – Vincent Van Gogh, 1887
The post-impressionist artist was one of the most influential Dutch personalities in the history of art. He painted several self-portraits, and that had shaped up his own thinking and got him fame. One such painting, will be displayed at Louvre and exhibit his complicated personality.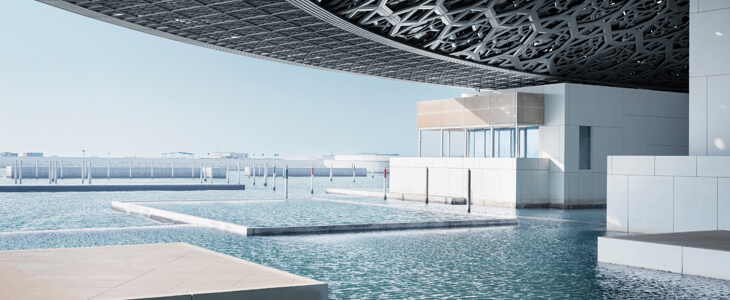 Image Credit: View overlooking the sea © Louvre Abu Dhabi, Photography: Mohamed Somji
Apart from the self-portraits he tried to bring out inner spirituality in people through art. He added a sense of emotions, drama, and rhythm through his art. Some of the masterpieces that reveal these are, The Starry Night, Cafe Terrace at Night, Bedroom in Arles, and The Yellow House.
Portrait of Fayoum – 225-250 A.D.
The Portrait of Fayoum is one of the 900 Fayoum portraits that were discovered all across Egypt, and they are assumed to date back to the Coptic period. The artworks are considered stylistic with more portraits of humans, compared to the geographical depiction of that era.
Researchers claim that they were made in the 1st century AD. The production had ended by the middle of 3rd, century, and one of such masterpieces will be added at Louvre.
Napoleon Crossing the Alps – Jacques-Louis David, 1803
This portrait exhibits the heroic Napoleon seated authoritatively on his golden horse. It symbolizes his valor and status, as he firmly grips the horse with one hand and points upward with the other.
This painting is supposed to be put up at a great height due to its high status and that adds more to the dynamism of Louvre.
La gare Saint-Lazare, Claude Monet – 1877
This is an iconic painting designed by the founder of the French impressionist movement. He reveals the early sense of industrial revolution that had changed European society. This was the largest painting that he had made in 1877 out of the 12 artworks that he had done in the same year.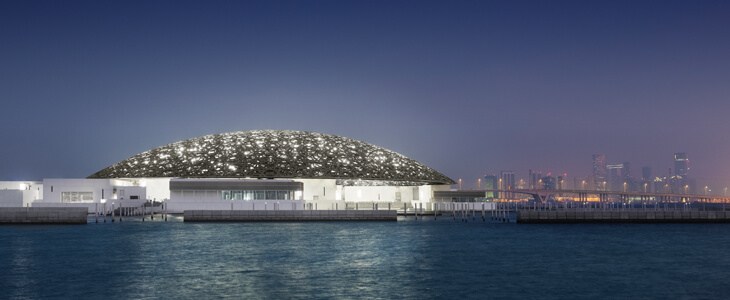 Image Credit: Louvre Abu Dhabiís exterior with Abu Dhabiís skyline (night) © Louvre Abu Dhabi, Photography: Mohamed Somji
Some of these to name are the Saint-Lazare Station and the Exterior of Saint-Lazare Station. Claude used thick build-up of pigments, hues of impasto, and blended them to catch anybody's eye from a distance.
Some more artworks that you must locate at the Louvre are, 'A Young Emir Studying', 1878, by Osman Hamdi Bey, 'Bactrian Princess' from 2nd millennium BCE, 'Statue of Gudea' from 2120 B.C, 'Children Wrestling' by Paul Gauguin, 1888, and more.
Check out this amazing
.
Related Articles