Souks in Dubai: Explore the City
Souk or souq is the Arabic word which means bazaar or market or a place to buy and exchange goods. Initially, dhows from South East Asian nations and the Indian subcontinent used to arrive with goods at these souks for trade. Traders would travel from all kinds of places to sell their merchandise with a bargain to make sales, as well as, purchases.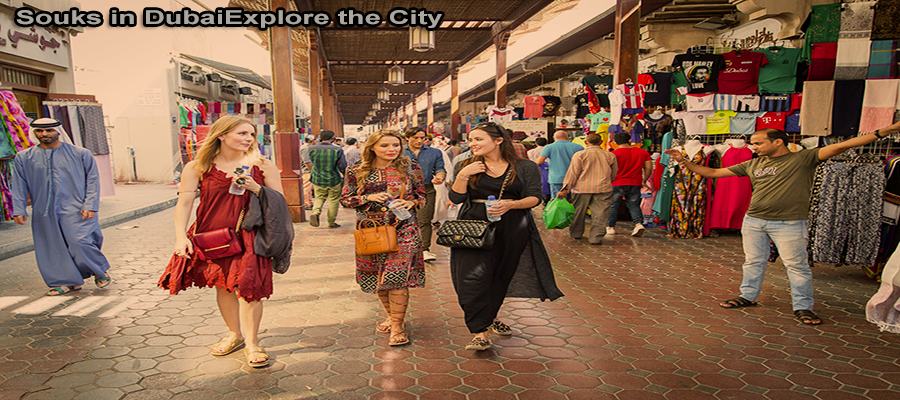 Today, traditional souks are still scattered all over the Middle Eastern countries but their glory days are long gone. However, regardless of whether you want to shop or simply explore the Arab Heritage, some souks in Dubai should be must visit in your list. Below we have rounded up some of the best souks to explore in the city.
1.   The Gold Souk
A five-minute walk from the Old Souk Marine station at the Dubai Creek is The Gold Souk. Buy yourself some shiny metal and stones. And, if you want to sell or exchange some yellow gold jewelry, there are about 300 stores for you to trade it in.
2.   Karama Market
You can haggle your heart out at the Karama Market. The place is known for offering knock-offs of high-end and couture bags and shoes. You will also find some handcrafted knick knacks and souvenirs to take back home with you.
3.   Meena Bazaar
Near Al Bastakiya area, at Bur Dubai is Meena Bazaar, a place for purchasing some Indian items. The marketplace is famous for Indian lehengas, bridal jewelry, watches, spice, fabrics, furniture items, and accessories. You can also find some amazing deals on electronic goods like LED television sets and other household appliances.
4.   Naif Souk
One of the oldest souks in the city, Naif Souk used to be a camel market. Now, you can find over 100 stores and stalls offering fabrics, leather goods, and collectibles. The vibrant marketplace also offers henna products, abayas, kaftans, hair extensions, and Arabic costume jewelry.
5.   Spice Souk
Savour the aromatic experience at the Spice Souk in Deira. It is a delight for people who excel at haggling. There are numerous stores selling spices, herbs, dried fruits, household goods, henna kits, fabrics, incense, rugs, shishas, and artifacts. Everything is kept in burlap sacks which make for an excellent photo opportunity.
6.   Old Souk/Textile Souk
Perched across the creek in Bur Dubai, the Old Souk or Textile Souk is a renovated sandstone structure. It consists of a long line of retail stores selling an extensive range of textiles – from cashmere and silk to cotton and wool. Other than fabrics the marketplace also sells garments, collectibles, and slippers.
7.   Fruit & Vegetable Souk
In Ras Al Khor, off the Emirates Road is the Fruit & Vegetable Souk. It has a signpost to indicate when you reach its proximity. You can buy fresh food produce in bulk, as well as, normal quantities. The market has been refurbished over time and has sales assistants too if you want to hire someone to drag your trolleys. Compared to the fresh produce at the supermarkets, prices are so much lower at the souk.
Explore and shop your heart out at these beautiful souks in Dubai.
Related Articles