Top Iftar Places In Abu Dhabi
We already talked about Top Ramadan Tents in Dubai, now it's time for Abu Dhabi. Below are some of the top places where you can enjoy Iftar and Suhoor in Abu Dhabi the capital of UAE.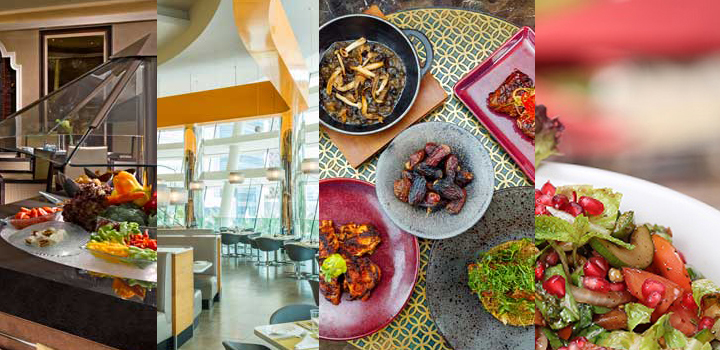 Yas Marina Circuit
Abu Dhabi is famous for its F1 races. So how about you get to break your fast in one of the pit stop zones in Yas Marina Circuit. Do you want to know the name? They named it "This Is Not A Buffet". It's open from sunset. So if you are an F1 fan then you should not miss this.
St. Regis Saadiyat Island Resort
You can enjoy your iftar at Olea restaurant of St Regis Saadiyat Island Resort from sunset till 9 pm. If you have kids under age 5 then they can enjoy the meal for free.
Sho Cho
If you love Japanese, then Sho Cho is the place to visit for Iftar. This cool Japanese outlet down by the Creek is serving an iftar bento box. Inside you'll find miso soup, salads, tempura, sashimi and more.
Rosewood Abu Dhabi
The Al Maryah Island hotel is serving iftar in its Arabic outlet Sambusek's summer tent. You can also enjoy suhoor here. Rosewood Abu Dhabi, Al Maryah Island, Abu Dhabi, daily from sunset, iftar Dhs195, suhoor Dhs125.
Ritz-Carlton Abu Dhabi Grand Canal
One of Abu Dhabi's swankiest hotels is also home to one of its biggest iftar buffets at the huge all-day dining restaurant Giornotte. Suhoor takes place in its Ramadan tent from 7.30pm to 2 am.
Novotel Abu Dhabi Al Bustan
The hotel is celebrating with an iftar buffet at Pepper, featuring lamb ouzi, with unlimited soft drinks included in the price. Novotel Abu Dhabi Al Bustan, Al Aman, Abu Dhabi, daily sunset to 10.30pm, Dhs139
Yas Rotana
Yas Rotana is serving a buffet featuring both traditional Arabic dishes and beverages. Indian outlet Rangoli is also getting in on the iftar act. Its Dhs149 menu features curries and biryanis.
Yas Viceroy Abu Dhabi
Abu Dhabi's futuristic hotel by the Formula One track is following the traditions of Ramadan with an Iftar of Arabic dishes, including grills and mezze platters, at its outlet Origins from sunset till 9 pm. Yas Viceroy, Yas Island, Abu Dhabi, Dhs165.
Coya
Abu Dhabi's new Peruvian outlet is offering iftar with cream of pumpkin soup, salmon a la brasa served with stir-¬fried quinoa and green vegetables, but if you want to Iftar here then you better reach on time since they are serving till 8 pm
Crowne Plaza Yas Island
All-day dining outlet Jing Asia will serve an Arabic buffet for iftar and a buffet at Barouk between 7 pm and 9 pm, and an a la carte menu for suhoor between 9 pm and 3 am
Four Seasons
You can break your fast at three outlets at this Al Maryah Island hotel: Al Meylas, its outdoor lounge (Dsh175), plus Steakhouse Butcher & Still (Dhs250) and Italian Café Milano (Dhs200).
Hilton Abu Dhabi
One of Abu Dhabi's oldest hotels, the Hilton is serving an iftar buffet at its all-day dining restaurant La Terrazza, while suhoor will be available at its tent situated in the beach garden – there's a Dhs50 cover charge on weekdays that rises to Dhs60 on Fridays and Saturday for suhoor.
So, what are you waiting for? Go visit these places and let us know what do you think.
Ramadan Mubarak!
Related Articles