Zabeel Park – A Perfect Adventurous Excursion
Inaugurated by HH Sheikh Hamdan bin Rashid Al Maktoum in a public ceremony in 2005, Zabeel Park is a unique urban public park, situated between Al Karama and World Trade Centre at Zabeel Square bound toward the Sheikh Zayed Road.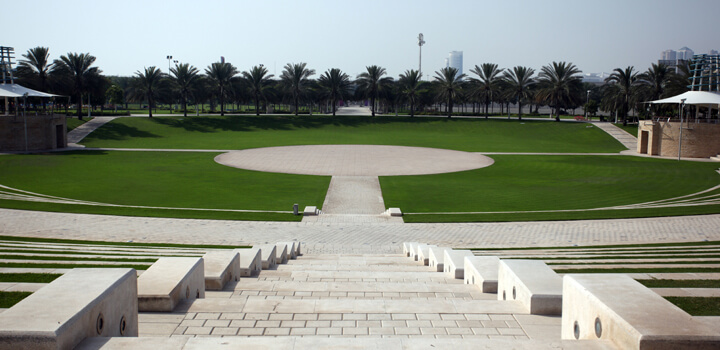 Zabeel Park spans across an area of 47.5 hectares which is approximately equal to 45 football grounds. It is categorised in several divisions, with bridges connecting them to each other for the pedestrians. It is also said to be the first technically advanced park in the Middle Eastern trans continent,
Edutainment for children
Stargate Dubai's amusement complex is a perfect place to send your hyperactive children to have fun all while learning a new skill or two. The edutainment section has a wide open area, accompanied by ice rinks and ice skating, activity areas, a giant installation of chess.
High tech entertainment
Zabeel Park offers a three-dimensional cinema, an exhibition gallery, a BMX track for motocross enthusiasts. The park also organised edutaining interactive shows in the communication, techno, and the alternative energy zones.
Birdwatching in the green
Equipped with over 3,000 palm trees with an additional 7,000 trees of numerous other species. The lush greens sprawling across the park is perfect for watching birds and getting lost in the rich landscapes of the park.
Friday farmer's Ripe Market
Fridays at Zabeel Park gets pretty hectic and buzzing with crowds due to the weekly special activities and events organised there. One of the most popular Friday favorites is The Ripe Market. It is a dedicating shopping community that includes local business vendors displaying their fresh produce, handmade goods and artisanal organic techniques for sale.
The Ripe market also conducts one-day cooking classes for adults and pony rides and petting zoos for children. It is a hotspot for budding genre musicians and entertainers too.
Dubai Garden Glow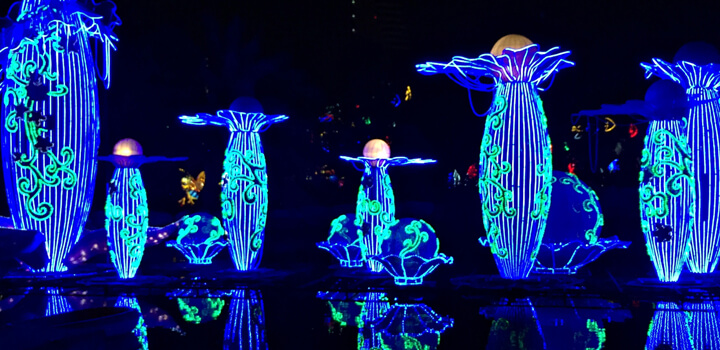 Overlooking the Zabeel Park's lake is one of its kind theme park, Dubai Garden Glow. It is a psychedelic overload with brightly coloured lights and effervescent installations conceptualised by artists from across the world. It also houses a miniature replica of Burj Al Arab and the largest dinosaur park in the world, with hundreds of lifelike animatronic creatures.
Free wi-fi stations
Zabeel Park accommodates Dubai's first batch of Wifi stations called Smart Palms. Each station offers super speed wifi connectivity within a range of 53 meters. These wifi stations also provide plugs to charge cell phones and tablets– entirely on solar energy. Also, these wi-fi stations make a good photo opportunity as they literally are shaped like Palm Trees.
Accompanying facilities
Zabeel Park boasts of numerous amenities like areas for barbecues and cookouts, lavatories, cycling track,jogging tracks, lakes with rentable small boats, stunning water fountains, sports clubs, a mini gold ground, amphitheatre, BMX track, cafes, and for the cricket fanatics– an excellent floodlit cricket pitch located on the Al Mankhool side of the Sheikh Zayed Road. They have a large parking area and a very convenient children's playground.
Zabeel Park is an ideal location to spend your holiday with family, especially if you have very young children.
Charges: Dhs 5 per person
Timings: 8 AM to 11 PM (Saturday to Wednesday) and 8 AM to 11:30 PM (Thursday, Friday)
Related Articles