Attending Iftar Party – Things You Should Know
The ninth and the holiest month in the Islamic calendar is the month of Ramadan when the observers fast throughout the day and pray for becoming more modest, patient and spiritual towards their family, friends and all other living beings present on this earth. Through this entire month, they fast during the day when the sun is there and eat only two servings one before the sunrise marking the onset of the fast and the other after the sunset to open the day-long fast. The followers of Islam prefer to open their fast through a small or a big party which is commonly known as the Iftar party.
This is a very special moment on the part of an Islamic day during the month of Ramadan and they love to bring their whole family and friends together in this party when they break their day-long fast. UAE is a place which is fast growing and very buzzing place with all life and colors. It is a different face of UAE that people would enjoy seeing and experiencing when they are there during Ramadan. It would be an outstanding experience when you get an invitation for an Iftar party in UAE.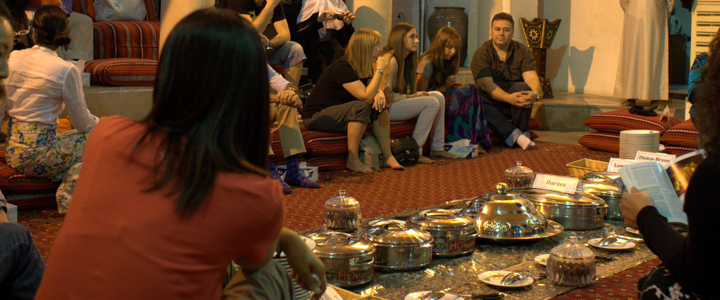 You might be under great stress, as being an outsider you may not know everything about this special moment of the day in an Islamic family during the holy month of Ramadan. This article today would act as a guiding star when you are about to attend an Iftar party for the first time in UAE.
Ramadan is a very special occasion for the followers of Islam and Muslims in UAE follow this month very strictly. If you are there during this month then you should know to respect and honor this culture of the Muslims. If you are invited for an Iftar party you must make sure to attend it without fail as it marks your respect towards the host.
The main motto behind the following of this custom by the Muslims is to become modest and show respect towards their religion. The same should be your gesture related to your dressing when you are invited to an Iftar party. You should be dressed with a suitable level of discretion. You should keep in your mind to cover your shoulders and knees and wear a very modest makeup not only in the party but throughout the month of Ramadan.
When you are invited to an Iftar party never forget to come to the house with a gift. A box of dry dates will be a great gift for this occasion. The culture of gifting marks your gratitude towards the family who is inviting you to enjoy their culture.
Some other important points that you should maintain while you are attending an Iftar party are:
Engage yourself into the supplications before the breaking of the fast.
Engage into praying Sunnah prayers after Maghrib.
Do not indulge into idle chatting with other guests.
It is treated as a bad manner to over-eat
So go ahead and enjoy your iftar parties with friends & family.
Related Articles